NOX alarm system
With a NOX alarm system you will get one of the strongest security systems in the market. It is an integrated security system that combines access control, fire detection, video surveillance and climate and building management in a single security system.
With this system you can collect, manage and control all your security systems and building installations in one system. All components and software are manufactured in Switzerland from uncompromising demands to design, quality and functionality. This has placed NOX in the highest class of security, class 3, which is your guarantee of a first-class security system.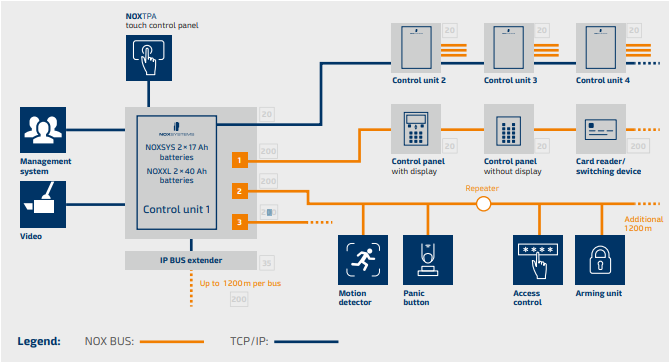 Mobile application
With the mobile application you can now control your system via smartphone or tablet. You can view your alarms, enable and disable areas, recognize alarms and search for log messages. All in encrypted communication for maximum security. This creates additional flexibility and mobility for your use and control for your business alarm.
NOX products
NOX offers 4 different size of centrals, which is scaled to your needs.
NOX ONE: For small and medium-sized systems. NOX One is good for private houses, shops, banks, and the likes.
NOX LITE: For medium-sized companies and companies where several separate locations must be connected.
NOX SYS: For large companies with large facilities and several locations.
NOX XL: For XL facilities as a big brother to NOX SYS.
All the centrals above can be set up for several platforms and many special products can be added. Contact us for a non-binding talk about what best suits your company.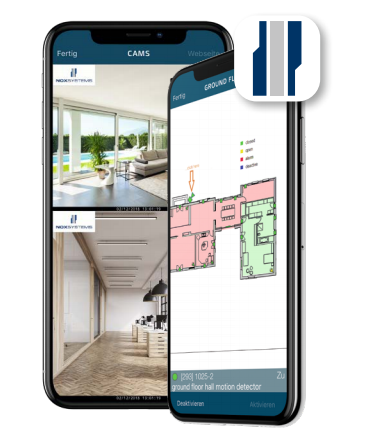 Contact IQ
If you have questions or want to know more, you are very welcome to contact us. We strive to respond to your inquiry as soon as possible.